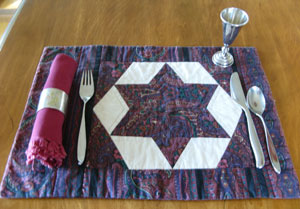 photo by Reeva Kimble
OLD WORLD RECIPES
Potato Latkes
Matzo Ball Soup
Potato Blintzes
Honey Cake
Chicken Fricassee with Meatballs
Lokshen Kugel
Bread Pudding
Kreplach
Kuchen
Brisket
Eggplant Appetizer
Chopped Chicken Liver



---
My mother came to the U.S. from Galicia at age 8, about 1906, and I'm assuming her recipes are what she learned from her mother back in Europe. Her maiden name was Augusta (Gussie) Lacher. Her family lived in a village near Lvov, and ran a bakery at their home. She came to Ellis Island with her mother and three sisters. Her father and two brothers came to the US a couple of years earlier.—Arnold Ismach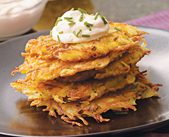 Mom's Potato Latkes
Arnold Ismach

2-1/2 lbs russet potatoes, peeled, grated* and drained
1 medium onion, grated
3 eggs, lightly beaten
1/2 C matzoh meal
1-1/2 tsp salt
1/4 tsp pepper
chicken fat (or oil) for frying

* I grate the potatoes with a hand grater, the old kind with square holes.

Squeeze handfuls of grated potatoes to remove as much liquid as possible. (You can put them in cheesecloth before squeezing, or do it in your hands.) In a mixing bowl, combine potatoes with onion, beaten eggs, matzoh meal, salt and pepper. (To make the pancakes lighter, you can use four eggs.)

Heat enough fat to cover the bottom of a skillet by about ½ inch. Drop potato mix by rounded tablespoons, and flatten with the back of a spoon. Fry until browned on both sides. Add more fat as needed.

Drain on paper towels. Serve hot, accompanied by sour cream or applesauce. Makes about eight servings.

---
Matzoh Ball Soup

Arnold Ismach
SOUP
1 4-lb chicken, fat and bones removed, cut into serving pi
eces
12 C of water
1 tsp kosher salt
2 Spanish onions, halved
1 celery stalk, halved lengthwise
1 carrot, peeled and halved
1 parsnip, peeled and halved
a few sprigs of parsley (and maybe some dill seed???)
kosher salt and pepper, as desired
MATZOH BALLS
6 large eggs, separated
2 tsp kosher salt
1 C plus 2 T matzoh meal
Fill a teapot with water and bring to a boil. Pour it over the chicken to clean it. Repeat twice.

Place the chicken, water, salt, onion, celery, carrot and parsnip in a stockpot and bring to a boil over high heat. Lower to medium heat and cook for 1-1/2 hours. Add the parsley and cook for 30 minutes. Strain, skim off fat, add salt and pepper to taste.

While the soup is cooking, prepare matzoh balls. Place the egg whites in a large bowl and beat until stiff. Set aside. Place the egg yolks and salt in a separate bowl and beat. Add the matzoh meal and combine with the egg whites. Cover and refrigerate 45 minutes. Then divide into 8 to 12 portions and roll into balls.

Place a large pot of water over high heat and bring to a boil. Add the chilled matzoh balls, lower the heat and simmer for 45 minutes. Add the matzoh balls to the soup and serve!

---
Potato Blintzes

Arnold Ismach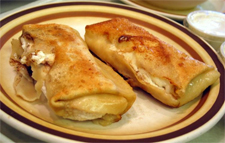 FILLING
1 lb medium baking potatoes (Russets), scrubbed
6 T sour cream
4 T unsalted butter
1-1/2 T sugar
CREPES
2 large eggs, lightly beaten
1 C water
1/2 tsp salt
1 C all-purpose flour
4 T unsalted butter, for frying.

To make filling, bring a medium pot of salted water to a boil. Add the potatoes and cook until tender when pierced with a fork. Drain and cool, then slip the skins off with your fingers or a paring knife. Press the potatoes through a potato ricer into a large bowl. Stir in the sour cream, butter and sugar with a wooden spoon, and smooth the mixture.

In addition to the sour cream, one of these can be added to the filling, if desired: 1⁄2 C of jam; 1/3 C of chopped dates; 1⁄4 C of chopped, toasted pecans, or 1⁄4 C of raspberries.

To make the crepes, whisk the eggs, water and salt in a medium bowl. Whisk in the flour until smooth. Heat an 8-inch skillet (preferably non-stick) over medium heat. Swirl in 1⁄2 tsp of butter until pan is coated. Pour 1⁄4 C of crepe batter into the center of the pan and swirl until batter coats the bottom. Cook until bottom of the crepe barely begins to turn brown, less than 2 minutes. Flip with a spatula and cook for 1 more minute. For each additional crepe, add more butter to the pan. Stack the crepes on a plate, or between sheets of waxed paper.

To make the blintzes, lay the crepe on a work surface, like a cutting board, and place 1/3 C of potato filling in the center. Gently press with a spoon to shape into a 1⁄2 inch thick cylinder. Fold the sides of the crepe near the ends of the cylinder onto the filling, then roll the crepe. Slightly flatten, and then set aside until all are prepared.

Melt 1 tablespoon of butter in a large skillet over medium-high heat. Swirl, then add four blintzes to the pan. Fry until golden, about two minutes. Then turn and fry other side. Serve with sour cream, if desired. (And, of course, a glass of kosher wine.)

Note: I've also used it for making cheese blintzes, simply substituting cottage cheese and eggs for the potatoes. I don't know if this is a recipe my mother brought over from the old country, or just one she invented.

---
My mother, Leona Saxon Jacobson was born in New York, the ninth of ten children of Moszk-Hersh and Guta Naiman Ciechanowicz, formerly of Lomza, Poland. Moszk, (later Morris Saxon) came to NY in 1895. His wife and first three children arrived five years later.—
Reeva Jacobson Kimble
Honey Cake

Reeva Jacobson Kimble
Mom's honey cake was usually served at Rosh Hashanah. It is very mildly sweet, and nice with a cup of tea. It has no shortening of any kind, so can be served at the end of any meal. Keeps very well.
2 eggs - well beaten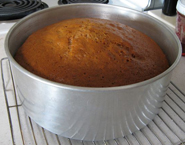 photo by Reeva Kimble
Add in order and mix
1 C sugar
1 glass honey (5- 6 oz)
1 C strong coffee with 1 tsp baking soda mixed in
2-1/2 C sifted flour
1-1/2 tsp baking powder
1 tsp cloves
1 tsp cinnamon
juice of 1/2 lemon
grated rind of 1 lemon
1/2 C chopped walnuts

Line an ungreased 9 inch round pan (with high sides) with a circle cut from a brown paper bag. Pour in batter. Bake 1 hour at 325 degrees. Remove from oven. Invert pan so the top does not sink as it cools.

---
My Mom's Chicken Fricassee with Meatballs
Reeva Jacobson Kimble
In Eastern Europe, this very flavorful dish was made with the least expensive parts of old chickens – necks, wings, feet, gizzards. They were browned in chicken fat, then slowly cooked in a thickened broth with sauted onions, (celery and carrots if available). Tiny meat balls (made with equal parts chopped meat and stale bread, moistened with an egg and water) were added at the end to provide more protein.
My mother had the butcher cut up a whole chicken, but added the meatballs too. It was my favorite dinner as a teenager. Until I made it myself, I had no appreciation of the number of hours it took to make this delicious meal.
3-5 lb chicken, cut up into serving

size pieces
Chicken fat from chicken
2 medium onions, chopped
1 tsp chopped fresh garlic
3 T flour
4 C boiling water
1 T salt
1/2 tsp pepper
¾ lb ground beef
Heat the chicken fat in a large dutch oven until melted. Add chicken parts and brown on all sides. (Do this in several batches, removing browned chicken to make room for more.) Remove chicken and saute onions and garlic. Pour off excess oil. Sprinkle in flour and cook for a minute. Add water, 2 tsp salt, 1/4 tsp pepper and stir. Put all the chicken back in, cover and simmer for at least one hour.

Mix ground beef with 1⁄4 tsp salt and 1⁄4 tsp pepper and a bit of water. Shape into 1 inch meat balls (marble size).

When the chicken is thoroughly cooked, taste the thickened broth. Add more seasoning, if needed. Then drop in the meatballs and cook for another 20 minutes or so. Serve with noodles or barley.

---
Lokshen Kugel (Noodle Pudding)

Reeva Jacobson Kimble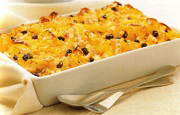 1 lb wide egg noodles
7 large eggs
1/2 C sugar
1-1/2 tsp vanilla extract
1 tsp powdered cinnamon
1/2 C raisins
2-1/2 C creamed large-curd cottage cheese
2 T sweet butter, for topping
Sour cream and cinnamon sugar (optional)
Cook the noodles in 3 quarts of rapidly boiling, lightly salted water until tender but still al dente, about 10 minutes. While the noodles are cooking, preheat the oven to 350 degrees. Butter a 9 x 13 baking dish, preferably of heavy ceramic or heatproof glass.

Beat the eggs with the sugar, then beat in the vanilla and cinnamon. Drain the noodles, but do not dry too thoroughly; if noodles are too dry, the pudding will be heavy. Turn the hot noodles into the egg mixture, adding the raisins and the cottage cheese. Combine thoroughly but gently so you do not break up the noodles. Turn into the buttered baking dish. Dot the top generously with butter and bake for about 50 minutes, or until the pudding is set and the top is golden brown. Serve hot, plain or sprinkled with cinnamon sugar and with sour cream on the side.

Yield: 8 to 10 servings
---
My mother wasn't such a good cook. Fortunately, my father would eat anything. They were a good match. For me, there were only two dishes I really loved—Bread Pudding and Noodle Pudding. So these were the recipes I requested as I moved out of my parents' home to head west, as young men were advised.—
Michael Sussman
original recipe
(click to enlarge)
Bread Pudding

Michael Sussman
6 slices bread (day or two old)
3 eggs
1/4 C sugar
1/2 tsp cinnamon
1/4 C melted butter or margarine
1 C raisins
2 apples, pared and cut in very thin slices
1 tsp vanilla
1/2 tsp salt
Preheat oven to 350 degrees

Step 1 – Soak raisins in hot water and set aside.
Step 2 – Soak bread in water until mushy, squeeze out water and drain thoroughly. Put in mixing bowl and add salt.
Step 3 – Beat eggs, add sugar, cinnamon and vanilla and add to bread.
Step 4 – Add melted butter, drain raisins thoroughly and add to mixture with sliced apples.

Pour into casserole which has been greased with butter and preheated in a 350 degree oven. Bake at 350 degrees for about ¾ hour.
---
Here are 3 recipes from my grandmother, Sadie Haber Weiss, that she always made when we went to her or she came to us. My mother followed her around the kitchen to gather the ingredients for these. The ingredients for them were by weight (and feel) so Mom had to measure and weigh in order to come up with cups, etc. These may be Czech or Hungarian or some variation.
—Linda Brodie
Kreplach
Linda Brodie

2 medium potatoes — boil and mash with about a 1/2 C potato water
1 sifter full of all-purpose flour, plus 1/2 sifter full (approx. 6 cups)
2 eggs, beaten with 1 C water

Mix flour with mashed potatoes until potatoes are coated with flour and form small pieces. Make a hole in center and add the beaten eggs. Mix until dough is soft and leaves hand. Roll dough out on a clean tablecloth and cut into 2" or 3" squares.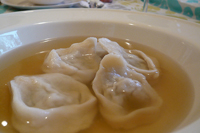 CHEESE FILLING
1/2 carton cottage cheese
1 egg yolk, beaten
2-1/2 T sugar

Put all through a strainer.

PRUNE FILLING
1 small pkg dried, pitted prunes
1 small pkg dried apricots

Cook until tender in water. Drain, but reserve water. Beat the fruit with a mixer, adding some water as needed to make a smooth filling.

Put a teaspoonful of cheese mixture or prune mixture in the center of every square of dough. Fold over in a triangles or oblongs and pinch edges together. Lay out to dry, about an hour or so. Put dough into boiling salted water. Cook about 5 minutes more.

Drain and place in a pan of graham cracker crumbs that have been mixed with melted butter. Carefully coat the kreplach with the crumbs. Place pan into an oven at 200 degrees to heat through, about 10 minutes.

---
Grandma's Kuchen
Linda Brodie

1 pint milk
2 cakes yeast
1 C sugar
3 tsp salt
2 oz butter
1 can evaporated milk
2 eggs, beaten
1/4 pkg raisins
12 - 14 cups all purpose flour
2 T cinnamon and 2 T sugar mixed together

Heat fresh milk until warm. Mash yeast. Add to 1/2 C of the milk. Milk should be lukewarm. Scald remainder of the milk. Add sugar, salt, butter, canned milk, cool to lukewarm. Add eggs, yeast, and raisins.

Add flour cupful by cupful, mixing thoroughly after each addition until dough clears the bowl and can be turned out onto a floured board and kneaded. Knead until the surface of dough feels smooth and looks satiny. If necessary sprinkle board with flour from time to time to keep dough from sticking.

Shape dough into a ball. Place in a greased bowl. Cover with a clean cloth, let rise in a warm place (80 to 85 degrees) away from a draft until double in bulk (about 1 1/2 to 2 hours). When double in bulk, you should be able to press dough gently with fingers and have an impression remain.

Knead the dough down, turn out onto a floured board . Divide dough in two equal pieces. Sprinkle with cinnamon and sugar mixture. Gently knead the sugar/cinnamon mixture in. Shape into two loaves.

Place into greased pans. Brush top with melted shortening. Cover with clean cloth, place in a warm place to rise until double in bulk (about an hour). Preheat oven to 400 degrees. Bake in moderately hot oven, 400 degrees, for about 20 min., then lower heat to 350 for 25 min. longer.

---
Grandma's Brisket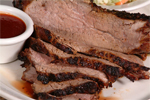 Linda Brodie

4-5 lb brisket, some fat trimmed
1 onion, sliced
2-3 tomatoes, sliced
salt and pepper
water

Sprinkle brisket with salt and pepper. Lay onions on top of the meat and place in a roasting pan. Roast to sear at 450 degrees until browned, about 30 min. Remove from the oven and add the tomatoes over the top of the onions. Lower the heat to 350 degrees. Add water to the roasting pan until it is halfway up the side of the meat. Put back in the oven and place a lid on the roasting pan. Let cook for about 2 1/2 to 3 hours. Remove from the oven. Scrape the tomatoes and onions off the meat. Place meat on a platter and slice. Place meat in a casserole with a lid. Pour the drippings from the roasting pan along with the tomatoes and onions into a sieve. Stir the solids in the sieve to extract the pulp of the onions and tomatoes. Once the meat drippings have a good amount of the pulp, stir to combine and pour over the sliced meat in the casserole. Bake covered in a 350 degree oven for another 45 min. to an hour.

---
Eggplant Appetizer or Side Dish.
Leah-Maggie Garfield

Leah-Maggie's great grandfather was an innkeeper in Sarnaki, Poland. Her grandmother cooked for the guests at the inn. This was one of the vegetable dishes that she made.
2 large eggplants
1 green pepper
minced onion
salt and pepper to taste
olive oil
vinegar
2 medium tomatoes



Bake two eggplants and a green pepper until they are flat on one side and all fallen down. Remove from oven and cool. Skin eggplant and the pepper.

Use a wooden chopping bowl and a chopping knife with a round handle to chop the eggplant and the pepper until completely ground. (do not use a food processor).

Pour chopped vegetables into a bowl. Mix in a minced onion. Add salt and pepper to taste. Add olive oil and vinegar. (More olive oil than vinegar.)

Cut two ripe medium tomatoes, mix in and serve cold.

---
Chopped Chicken Liver


Leah-Maggie Garfield

l lb chicken livers - wash, clean and drain
One large onion cut up in small pieces
6 hard boiled eggs
2 T of chicken fat or olive oil
dash paprika, salt and pepper.

Steam livers for 5-7 minutes. Drain well and chill in refrigerator for 40 minutes.

Place in a wooden bowl with hand chopper. Cut up livers, place with sliced onion. Chop until pieces are blended and liver is nearly a pate. Add eggs. Keep chopping until you can't see there are eggs in the mix.

Add olive oil, paprika, salt and pepper. Place on plate covered with lettuce, add tomato and put chopped liver in the middle.
Serve as appetizer. Makes 3 1/2 cups.

---
©2018 JGSWVO