LET NO HOLOCAUST VICTIM BE FORGOTTEN

The Jewish Genealogical Society of Willamette Valley Oregon is working with YAD VASHEM, The Holocaust Martyrs' & Heroes' Remembrance Authority, to help identify and remember every possible victim of the Holocaust.

Click here

for more information.
---
UPCOMING MEETINGS
Our meetings are open to everyone. You are welcome to ask genealogy research questions, report success stories, and show old photos, reference books and family heirlooms. JGSWVO members can borrow books and newsletters from our library and list family names and towns on our Web site.


Thursday, May 7 — 7:00 PM
Temple Beth Israel, 1175 E 29th Ave, Eugene OR
Program: Solving Your Genealogy Puzzles
Bring research questions or solutions. Our members will make suggestions to help you get started or find answers to some of those genealogy mysteries. Progress reports and success stories welcome.
Reeva Kimble will demonstrate what you might do with misleading information in US census records.

Thursday, June 4 — 7:00–9:00 PM
Temple Beth Israel, 1175 E 29th Ave, Eugene OR
Program: Put Uncle Max in His Place: How to organize your computer files for genealogy
Do your ancestors keep changing their names? Do you search for documents online because you forgot you already had them? Have you lost Uncle Max?
Michael Sussman will present a simple and effective method for organizing your electronic genealogy files. Instantly see the "Who, When & What" of each document. Learn and share tips to make file management easier and more fun. This presentation will use Windows; much will apply to Mac.
Michael has a degree in computer programming, a successful bookkeeping business, and a delightful sense of humor.

July - Annual Potluck (details to follow)

August - time to catch up on genealogy research and visit relatives

Wednesday, September 9 — 7:00 PM
Temple Beth Israel, 1175 E 29th Ave, Eugene OR
Program: Sabena Stark will tell us all about Yiddish, the language spoken by most of our recent ancestors.

Thursday, October 15 — 7 PM
Temple Beth Israel, 1175 E 29th Ave, Eugene OR
Program: Preservation 101
Dr. Pamela Endzweig, Director of Anthropology Collections at the University of Oregon Museum of Natural and Cultural History, will give an introduction to the main causes of damage and deterioration to your heirlooms and discuss ways of preserving them for future generations.
---
---
Topographic Maps of Eastern Europe
JGSWVO member Hap Ponedel is building a website with the primary goal of gathering the widest possible variety of historical maps for Jewish genealogists and researchers interested in the Jews of Eastern Europe. Maps from libraries around the world, as well as online sources, are offered along with links to Jewish encyclopedias to create a historical atlas. Check-in periodically as maps and links are continuously added.
"
Jews of Eugene, Oregon
," by Robert Levinson. Dr. Levinson interviewed several people with knowledge of the early Jewish community in Eugene.
---
OTHER NORTHWEST JGS MEETINGS
Jewish Genealogical Society of Washington State
Meets on the second Monday of each month from September through June
Most meetings are held at the LDS Factoria Building in Bellevue, 4200 124th Ave. SE
Free admission
---
---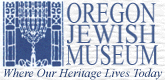 Oregon Jewish Museum
Hours:
Tuesday & Thursday, 10:30 a.m.– 4:00 p.m.
Wednesday, 10:30 a.m. - 8:00 p.m.
Friday, 10:30 a.m.– 3:00 p.m.
Saturday & Sunday, 12:00–4:00 p.m.

1953 NW Kearney St., Portland.
For information: (503) 226-3600

---
copyright© 1999-2015 JGSWVO. All rights reserved.
Site design by Charlie Fleishman