---
2016 UPCOMING EVENTS
Sunday , January 10 — 1:00 p.m.

Temple Beth Israel, 1175 E 29th Ave, Eugene OR
Short videos and discussion on topics including
:
• Naturalization Documents in a Nutshell
• 8 Ways to Find Your Ancestral Town
• 8 Pieces of Information on a Passenger Manifest.
• 6 Tips to Help Find Maiden Names
• 7 Popular Symbols on Jewish Headstones
Sunday, February 21 — 1:00 p.m.

Temple Beth Israel, 1175 E 29th Ave, Eugene OR

Program: Preservation 101
Dr. Pamela Endzweig
, Director of Anthropology Collections at the University of Oregon Museum of Natural and Cultural History, will give an introduction to the main causes of damage and deterioration to your heirlooms and discuss ways of preserving them for future generations.
JGSWVO is a member of
International Association of Jewish Genealogical Societies
---
36th Annual IAJGS Conference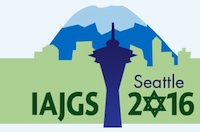 August 7-12, 2016 - Seattle, Washington

The conference theme is "The Wandering Jew". Details about the conference focus, FAQs and other information can be found on the website. More details will be available as programming evolves.
Under the News/Blog tab you will find instructions on how to get blog posts and how to join the conference discussion group. This year's discussion group is moderated, and moderators will read every submission for suitability.
It is anticipated that the call for proposals will go out around September 1, 2015, and registration will open January 4, 2016. Registration at the hotel will be tied to conference registration. It is planned to have all add-ons (trips, meals, etc.) available at the time conference registration goes live.
Contact information for committee members is available under the contact tab on the website.