---
FUTURE PROGRAMS
July 21 • 6:00 p.m.
Annual JGSWVO potluck for members only
August
Independent Genealogy Research
September
Hap Ponedel will describe "Changing Borders in Eastern Europe and the Effect on Our Ancestors"
October
Members will give short presentations on a city/town/shtetl/dorf where one of their ancestors lived. Photos, maps and slide shows welcome.
November
Film "
Echoes That Remain
" a warm and rich documentary portrait of Eastern European Jewry before the Holocaust. It combines hundreds of rare archival photos and previously unseen film footage with live action sequences shot on location at the sites of former Jewish communities in Czechoslovakia, Hungary, Poland and Romania. The film's production team spent over a year of research in archives around the world collecting film footage and photographs to help dramatize the folk stories, parables, and anecdotes. Playing an important role in the film are a series of evocative images from the famed photo biographer of Eastern European shtetl life, the late Roman Vishniac. "
Echoes That Remain
" has been screened in theaters and film festivals in North and South America, Europe, and Asia and has been the recipient of numerous awards.
December
Election of officers for 2017, Hanukkah treats, genealogy success stories and sticking points. Who and what did you discover this year? What questions are still unanswered?
January 2017
Hap Ponedel will discuss and analyze information in the book "
Golden Age Shtetl
."
JGSWVO is a member of
International Association of Jewish Genealogical Societies
---
36th Annual IAJGS Conference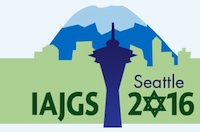 August 7-12, 2016 - Seattle, Washington

The conference theme is "The Wandering Jew". Details about the conference focus, FAQs and other information can be found on the website. More details will be available as programming evolves.
Under the News/Blog tab you will find instructions on how to get blog posts and how to join the conference discussion group. This year's discussion group is moderated, and moderators will read every submission for suitability.
It is anticipated that the call for proposals will go out around September 1, 2015, and registration will open January 4, 2016. Registration at the hotel will be tied to conference registration. It is planned to have all add-ons (trips, meals, etc.) available at the time conference registration goes live.
Contact information for committee members is available under the contact tab on the website.

---
Topographic Maps of Eastern Europe
JGSWVO member Hap Ponedel is building a website with the primary goal of gathering the widest possible variety of historical maps for Jewish genealogists and researchers interested in the Jews of Eastern Europe. Maps from libraries around the world, as well as online sources, are offered along with links to Jewish encyclopedias to create a historical atlas. Check-in periodically as maps and links are continuously added.
"
Jews of Eugene, Oregon
," by Robert Levinson. Dr. Levinson interviewed several people with knowledge of the early Jewish community in Eugene.
---
OTHER NORTHWEST JGS MEETINGS
Jewish Genealogical Society of Washington State
Meets on the second Monday of each month from September through June
Most meetings are held at the LDS Factoria Building in Bellevue, 4200 124th Ave. SE
Free admission
---
---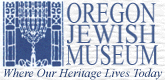 Oregon Jewish Museum
Hours:
Tuesday & Thursday, 10:30 a.m.– 4:00 p.m.
Wednesday, 10:30 a.m. - 4:00 p.m.
Friday, 10:30 a.m.– 3:00 p.m.
Saturday & Sunday, 12:00–4:00 p.m.

1953 NW Kearney St., Portland.
For information: (503) 226-3600

---
©2016 JGSWVO. All rights reserved.