LET NO HOLOCAUST VICTIM BE FORGOTTEN

The Jewish Genealogical Society of Willamette Valley Oregon is working with YAD VASHEM, The Holocaust Martyrs' & Heroes' Remembrance Authority, to help identify and remember every possible victim of the Holocaust.

Click here

for more information.
---
UPCOMING MEETINGS

Our meetings are open to everyone. You are welcome to ask genealogy research questions, report success stories, and show old photos, reference books and family heirlooms. JGSWVO members can borrow books and newsletters from our library and list family names and towns on our website.
---
FUTURE PROGRAMS
January 8, 2017, Sunday afternoon 1-3 PM
Hap Ponedel will tell us about the book
The Golden Age Shtetl A New History of Jewish Life in East Europe
by Yohanan Petrovsky-Shtern. He will offer some excerpts and share maps showing the book's geographic target zone.
The shtetl was home to two-thirds of East Europe's Jews in the eighteenth and nineteenth centuries, yet it has long been one of the most neglected and misunderstood chapters of the Jewish experience. Challenging popular misconceptions of the shtetl as an isolated, ramshackle Jewish village stricken by poverty and pogroms, Yohanan Petrovsky-Shtern argues that, in its heyday from the 1790's to the 1840's, the shtetl was a thriving Jewish community as vibrant as any in Europe This nuanced history casts the shtetl in an altogether new light, revealing how its golden age continues to shape the collective memory of the Jewish people today.
February 12, 2017 - Sunday afternoon 1-3 PM
Program
: Software for genealogy. Panel discussion about our favorite computer program for keeping track of family connections. Where to find free software for genealogy. What you get in a free program. Are special features in pricy software worth the cost?
JGSWVO is a member of
International Association of Jewish Genealogical Societies
---
Topographic Maps of Eastern Europe
JGSWVO member Hap Ponedel is building a website with the primary goal of gathering the widest possible variety of historical maps for Jewish genealogists and researchers interested in the Jews of Eastern Europe. Maps from libraries around the world, as well as online sources, are offered along with links to Jewish encyclopedias to create a historical atlas. Check-in periodically as maps and links are continuously added.
"
Jews of Eugene, Oregon
," by Robert Levinson. Dr. Levinson interviewed several people with knowledge of the early Jewish community in Eugene.
---
OTHER NORTHWEST JGS MEETINGS
Jewish Genealogical Society of Washington State
Meets on the second Monday of each month from September through June
Most meetings are held at the LDS Factoria Building in Bellevue, 4200 124th Ave. SE
Free admission
---
---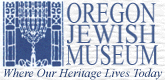 Oregon Jewish Museum
724 NW Davis St., Portland.
For information: (503) 226-3600
Administrative offices and archives are now open (researchers can call and make appointments).
Grand Opening of the museum scheduled for June 2017

---
©2016 JGSWVO. All rights reserved.