Our meetings are open to everyone. You are welcome to ask genealogy research questions, report success stories, and show old photos, reference books and family heirlooms. JGSWVO members can borrow books and newsletters from our library and list family names and towns on our Web site.
Sunday, April 12 - 1:00 PM
•
Temple Beth Israel, 1175 E 29th Ave, Eugene OR

Robert Weiss, who came to a JGSWVO meeting last year to ask for advice on locating his birthparents, will tell his remarkable success story and outline the research steps involved.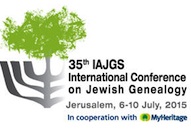 We will show and discuss the film "The Return of the Violin." It is the story of European Jewish musicians before and after WWII, especially the world's leading violinist, Bronislaw Huberman, of Czestochowa, Poland. He saved 70 Jewish musicians and their families (over 700 people) by relocating them to Palestine, and founded the Palestine Philharmonic Orchestra, now the Israeli Philharmonic.
Thursday, May 7 - 7:00 PM • Temple Beth Israel, 1175 E 29th Ave, Eugene OR
Program TBA

Thursday, June 4 - 7:00 PM • Temple Beth Israel, 1175 E 29th Ave, Eugene OR
Program TBA
---
JGSWVO is a member of
International Association of Jewish Genealogical Societies
---
—
Email for more information
about JGSWVO
—Become a
JGSWVO member
—Download
JGSWVO information handout
Jewish Online Worldwide Burial Registry (JOWBR)
Click here
for information
Topographic Maps of Eastern Europe
JGSWVO member Hap Ponedel is building a website with the primary goal of gathering the widest possible variety of historical maps for Jewish genealogists and researchers interested in the Jews of Eastern Europe. Maps from libraries around the world, as well as online sources, are offered along with links to Jewish encyclopedias to create a historical atlas. Check-in periodically as maps and links are continuously added.
"
Jews of Eugene, Oregon
," by Robert Levinson. Dr. Levinson interviewed several people with knowledge of the early Jewish community in Eugene.
---
OTHER NORTHWEST JGS MEETINGS
Jewish Genealogical Society of Washington State
Meets on the second Monday of each month from September through June
Most meetings are held at the LDS Factoria Building in Bellevue, 4200 124th Ave. SE
Free admission
---
Jewish Genealogical Society of Oregon
Meetings normally held September through June
Ahavath Achim, 3225 SW Barbur Blvd, Portland
---